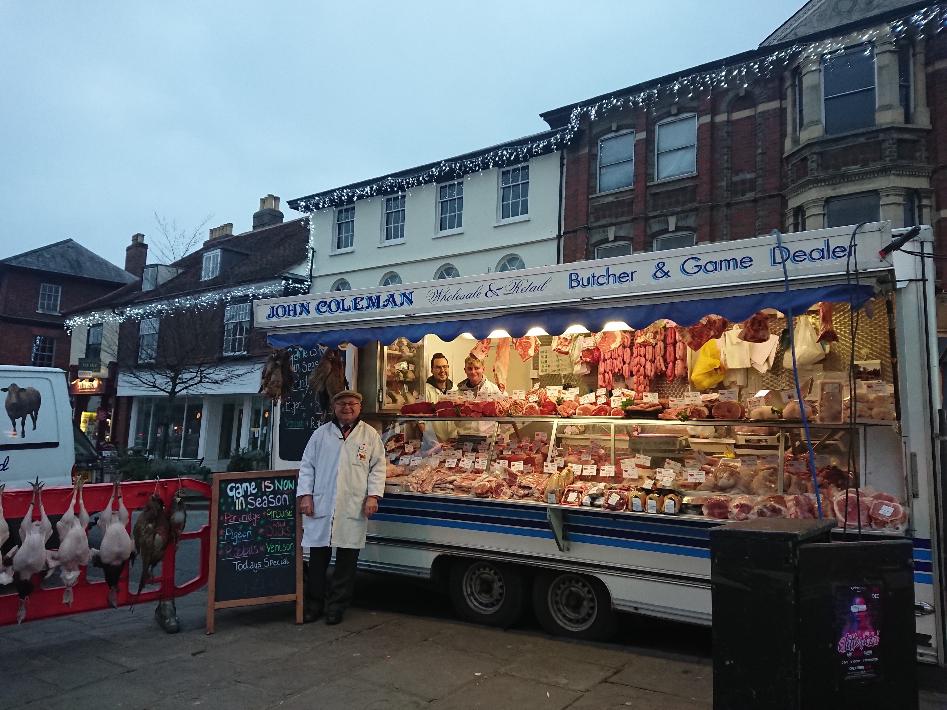 How To Find Us
The Butchers Shop
You can find our main butchers shop on Langham Road in Boxted, just outside Colchester. The shop is open 6 days a week, has ample onsite parking and is just a 2 minute drive from the A12 junction 28. Our team of friendly butchers will see to your every need, stocking a huge range of meats, local fruit and vegetables, cooked deli meats, hand made pies and pastries, and locally made preserves. For those using a Sat-Nav, use the postcode CO4 5HU.
.
Sudbury Market Stall
Our market stall can be found at the bottom of Market Hill in Sudbury, Suffolk every Thursday and Saturday. We stock an almost identical spread as our Langham Road shop, which is fairly impressive for a travelling stall! John, Martin and the team will be happy to help you out with anything you require. So, come down and say hello!
.
Colchester Market Stall (Stanfords)
Every fortnight on Saturdays, our butchers bring a selection of meats to the Stanfords Market on Wyncolls Road, Colchester. Get there early though, they sell out quick!
.
Contact Us
01206 272270
John Coleman Butchers
Langham Road
Boxted
Colchester
CO4 5HU
Hours Of Business
Monday 07:30 – 17:30
Tuesday 07:30 – 17:30
Wednesday 07:30 – 17:30
Thursday 07:00 – 17:30
Friday 06:30 – 17:30
Saturday 06:30 – 16:30
Sunday 09:30 - 13:30
© 2020 J. Coleman Wholesale Butchers Limited